Keep these 3 things in mind when headed to the store
Is this piece practical?
I'm a mom. No belly shirts and super low-cut tanks are gonna work. My kids already invade enough of my private space as it is. No need to give them easy access.
Is this versitle?
I need to go from dressing like I can go out to dinner, but be prepared if the toddler throws his toys on the floor in public and I'm spending the majority of my time trying to not make a scene by accidentally showing off my butt-crack to the table next to us, because I chose a pair of stylish jeans that creeps down each time I bend over. #gross
Is it affordable?
Again, the melted chocolate chip muffin. When my kids (or I) ruin a shirt during one of my daily motherly duties, I don't want to go into a deep depression because I just ruined a hundred dollar t-shirt.
---
Now there endless stores and boutiques out there that women over 30 can shop at so just because I don't mention them, doesn't mean that you should stay away from it. All I'm doing is listing my favorite stores that seem to compliment the three bullet points that I shop by…
Can I get an amen!? Target will totally come to my rescue for the best fashion finds, when I run in for toilet paper. Because let's get real here… when I go IN to LOOK for clothes, I can't find crap. But when I go in, strictly to only get one thing… I all of a sudden buy my entire Spring and Summer wardrobe. #targetdoesitagain  The long sweater in the very first photo of this post? Yep… Target!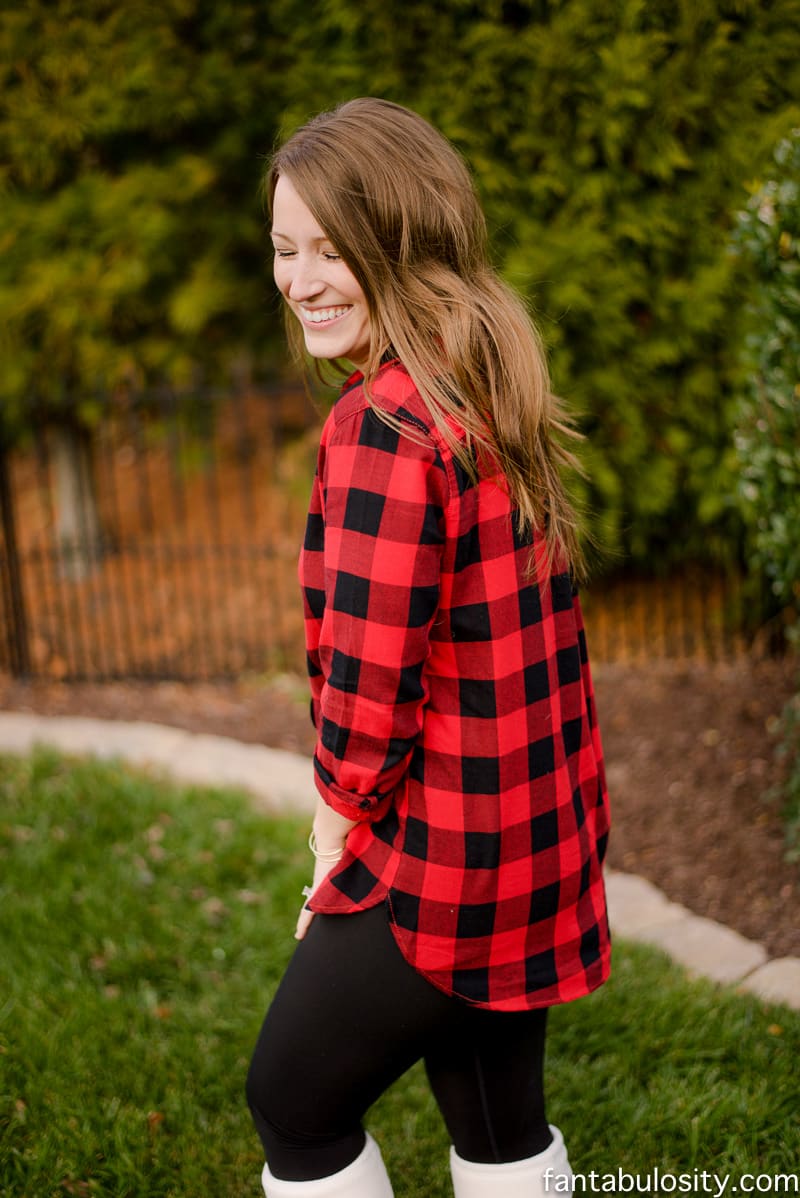 ---
It's been a favorite for years. It's also a "hit or miss." Then there are also those times I walk in there, (shop online) and see a "Whaaaaa?! Is that seriously in style now?" item. But more times than not, I find basics and super cute items that are great for mom-life and looking stylish. The red and black buffalo plaid shirt in the photo above? That came from H&M. It's one of my faves.
---
Ok, don't get scared budgeting mama. I hear you loud and clear. The name Nordstrom scared me to death for years. I didn't even want to look over to the store window when I'd bypass it at the mall. I had heard how expensive it was and made sure to stay away from there, in case I accidentally bought something by staring at it.
That was until a good friend of mine wanted to go in to look one day, and I had already gone to the bathroom, had a Starbucks in hand, and couldn't think of another excuse of why I couldn't walk inside there with her.
To my surprise, she headed right towards a section of clothes that had price tags on it, that was VERY comparable to other stores that I shopped at. I couldn't believe it. She explained to me that they have different sections of brands/designers, and there were definitely more expensive items in the store, but that I could feel safe hanging out with her in the comfortable price range area. So give it a whirl.
I recently signed up with Trunk Club by Nordstrom, and it's been AMAZING. I have them send me only items that are (mostly) under $100, and it's like a jackpot every.single.time. it comes. If you want to try Trunk Club, you can fill out a profile here:
---
I'm a sucker for dresses. Sundresses at that. They tend to pull off a timeless look, aren't too short, and can be classy, casual, and dressy all at the same time if need be. I buy 90% of my dresses from ModCloth. I've had wonderful experiences with them with all of my orders too! This green dress was purchased from there, and it's by FAR, one of my favorites. Shop Modcloth HERE!
---
It's one of those sites that made me very suspicious. The clothing prices look WAY too good to be true, and I just knew that they were going to take my money and run. But three orders in now… I've had nothing but great experience. Now does this mean that everyone has, or that you will? I have no idea! But I do know that I've had great experience, and WILL order from them again. I've ordered everything from tops, to blazers… that I receive TONS of compliments on.
The image below shows one of MANY jackets that I've purchased from LE3NO. Bright yellow… one of my faves.
---
I was scared of LOFT too for a long time because I thought it would be crazy expensive. But when I realized the quality of their clothes… it was a game-changer. I may only pay $24.99 or so for a shirt at Target, and a full-price shirt at Loft may be closer to $40.00 for the same type… but it seems to last SO much longer.
Plus, LOFT is just like any online store… they run SALES and I stock up when my favorites are on sale.
WHAT ARE MY FAVORITES FROM LOFT?
Their skinny jeans. They have killer jeans and they last a LONG time.
Their blouses. Especially their "Henley" tops. If I could get one in every color, I would.
They have super cute dresses from time to time, like this one below. It's one of my faves!
---
Now I do love J.Crew, but I have SO much more enjoyment while shopping at the J. Crew Factory Outlet, simply because of the price. Everything seems to always be at least 50% off, and I feel like I've found a deal every time I shop online there.
I'll mostly snag cute tops, like this adorable scalloped cami and leopard flats below, from J.Crew Factory Outlet or puffy vests in the winter season.
This is a newer love, and to be honest, I didn't really trust this store when I saw it online. Why? Because their shirts (which is all I've purchased so far) are usually about $7. That's just insanely cheap, right?!
But I decided to risk it and buy a couple one day, and I was VERY pleased with it. They were shipped fast, and fit true to size. Since then, I've placed 2 more orders and those were great experiences too! Shop SheIn here!
I SO hope that you found at least a little outfit inspiration for your mom-self, in this post!
Courtesy of Jessica at www.fantabulosity.com