A denim jacket is a classic wardrobe essential. It is one that can be worn in multiple seasons. Just like how jeans never go out of style and can be worn in so many outfits, a denim jacket is the same.
Denim jackets feature comfort and style, all in one. You can literally pair them with anything under the sun, with a dress or your white tee & pants combo. If the weather is crisp and cool, add a denim jacket as a layer over your tops for a bit of warmth.
What's great about having a denim jacket in your closet, is that you can wear it casual or dressy. Add it to your tee, pants and sneakers outfit for a casual vibe, or add it to a dress and heels to complete your outfit.
What Is a Denim Jacket?
A denim jacket is made of sturdy cotton fabric that is often dyed with a blue or indigo color. There are also white and black jean jackets, but these are not that popular than the blue ones.  A denim jacket is an basic essential that will never go out of style, whatever season you wear it.
Outfit #1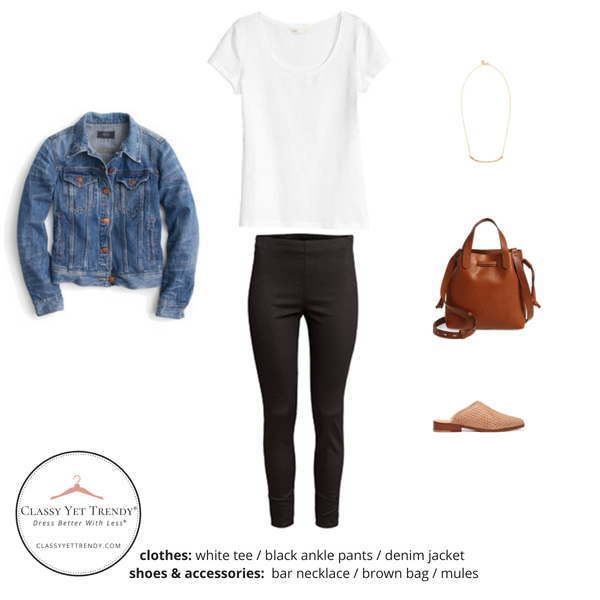 white tee / black ankle pants / denim jacket
bar necklace / brown bag / woven mules
Outfit #2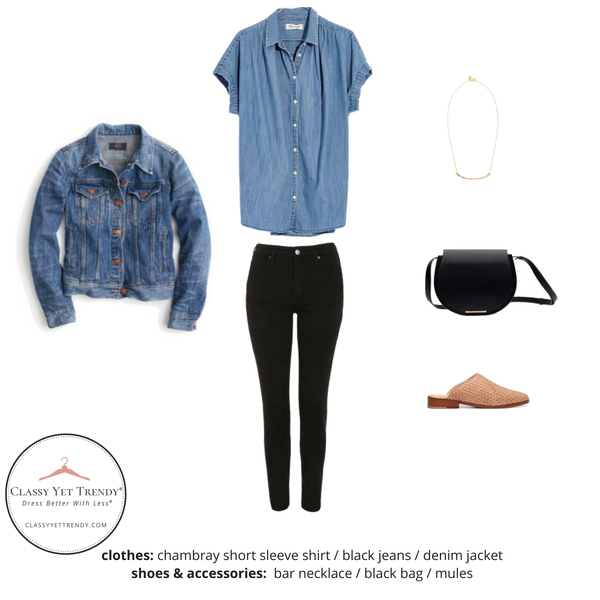 chambray short sleeve shirt / black jeans / denim jacket
Gorjana bar necklace / black bag / woven mules
Outfit #3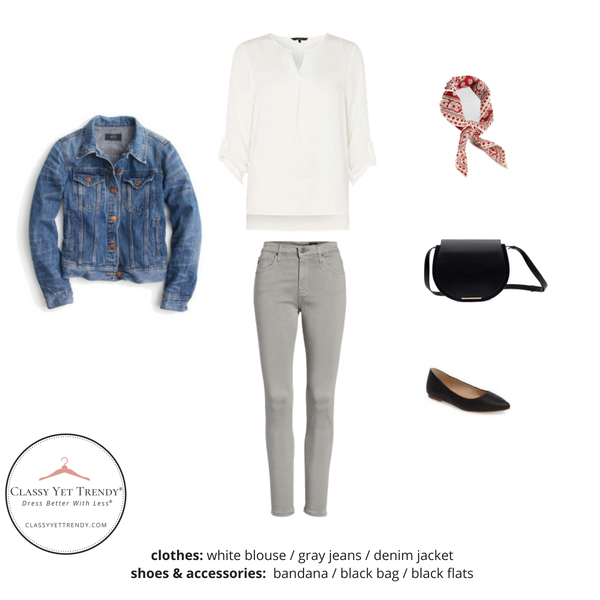 white blouse / gray jeans / denim jacket
bandana / black bag / black flats
Outfit #4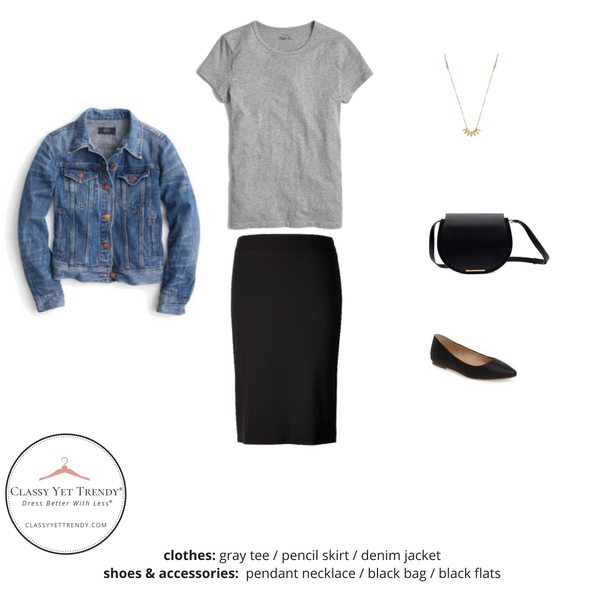 gray tee / black ponte skirt / denim jacket
pendant necklace (similar) / black bag / black flats
Outfit #5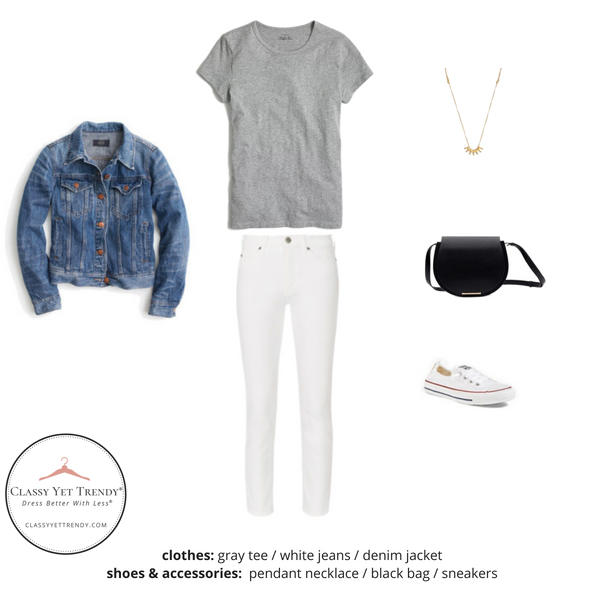 gray tee / white jeans / denim jacket
pendant necklace (similar) / black bag / white sneakers
Outfit #6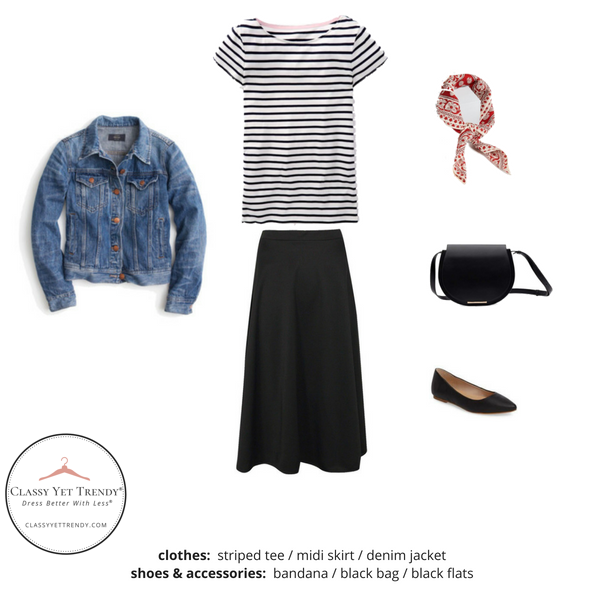 striped tee / black midi skirt / denim jacket
bandana / black bag / black flats
Outfit #7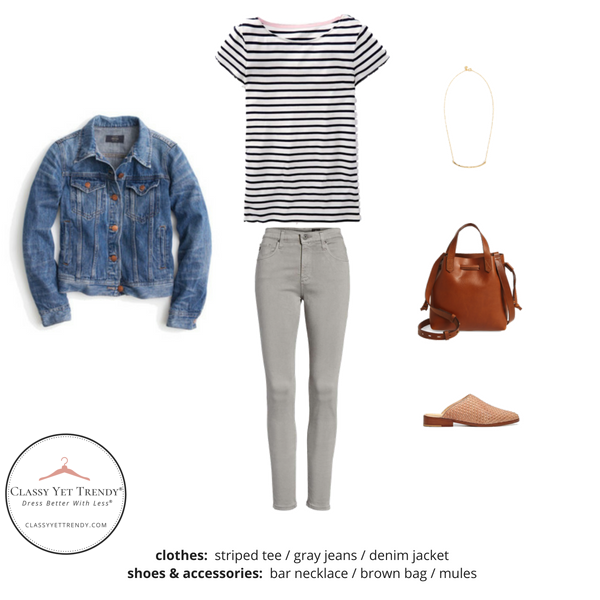 striped tee / gray jeans / denim jacket
bar necklace / brown bag / woven mules
Outfit #8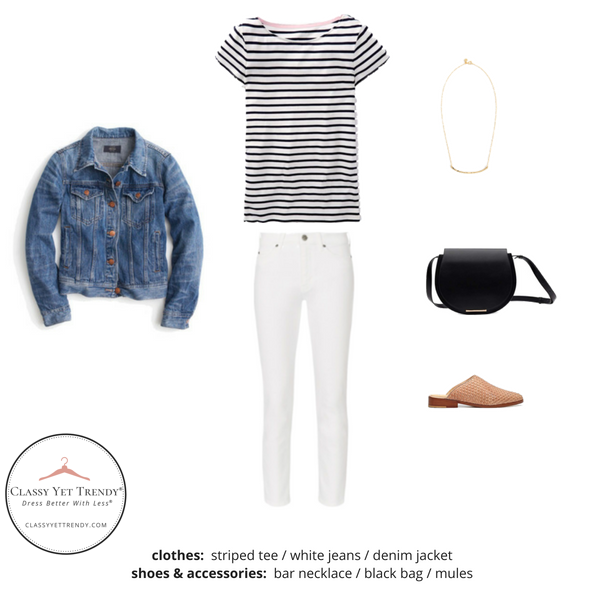 striped tee / white jeans / denim jacket
bar necklace / black bag / woven mules
Outfit #9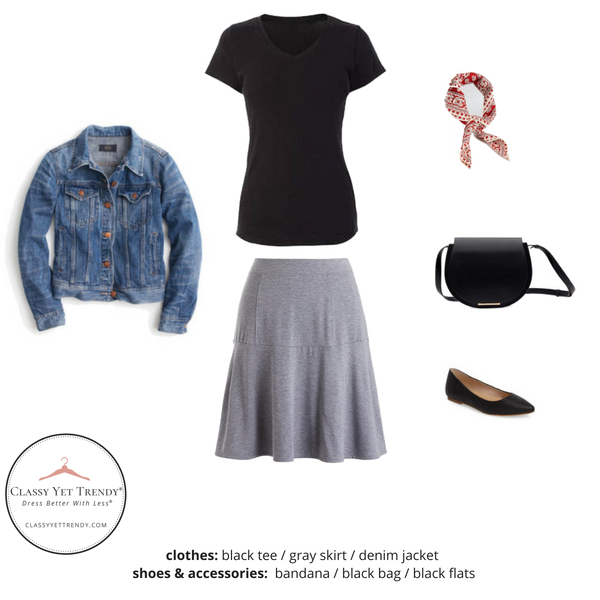 black tee / gray skirt (similar) / denim jacket
bandana / black bag / black flats
Outfit #10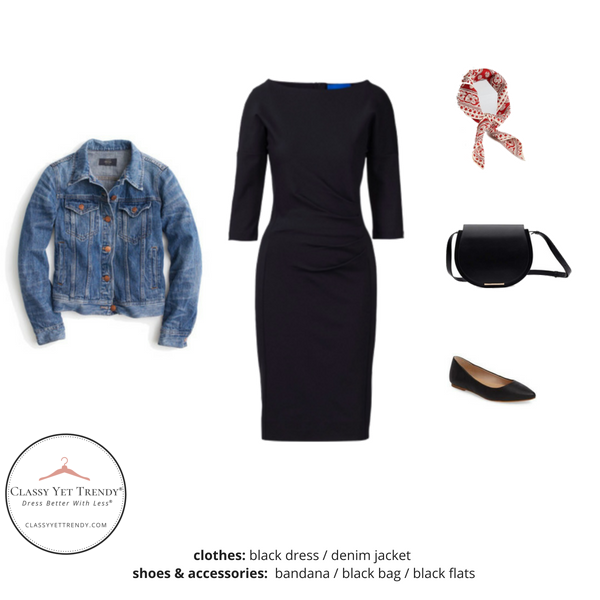 black dress / denim jacket
bandana / black bag / black flats