Once you move into a new place and set up your kitchen, the spaces you've designated for things tend to stay pretty much the same. But your cooking habits and your household's needs evolve. And the kitchen storage and organization you don't even think about anymore deserves a second look, too.
If you've found yourself cooking at home more than usual (or have recently become more reliant on home-cooked meals than ever before), you also have some new real-life information to put into practice in your kitchen. And you might even have the time to shuffle things around and thoughtfully consider the best arrangement.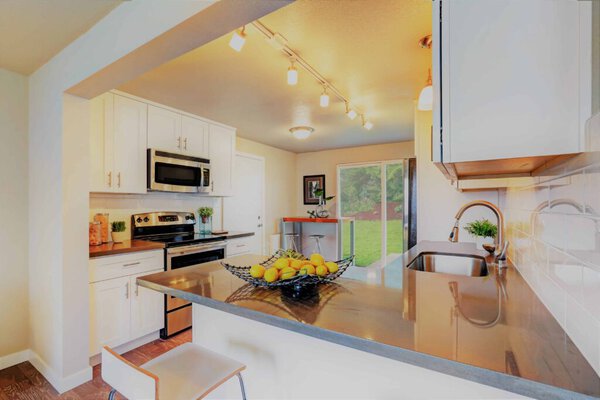 When it comes to what goes on your countertops and what should possibly be removed from them, here are a few thought-starters to jump-start you mini kitchen overhaul:
Storing them out on the counter might seem convenient until you reach for a spatula and find that it's covered in a film of grease and dust. Instead, if you have the space, store cooking utensils in a drawer that's close to your stove top and take out only what you need while you're cooking.
Knife blocks are so clunky and have a large footprint. And using them only dulls your knives. Chose an in-drawer knife holder instead. If you can't find any drawer space (and you may discover you have some after you go through this list), consider a magnetic knife strip instead of a knife block.
That mug tree looked fun in the store, but once it's displayed on the counter in regular daily life, it's going to get in the way when you're trying to prepare food. You'll also have to rinse each one out and remind everyone else to do it too, before any of them get used because they'll collect dust. If you don't have cabinet space, consider hanging your mugs from C hooks, either inside the cabinet or from its underside.
First a caveat: If the cutting board is a piece that gives you joy to look at, or if you find yourself annoyed at how often you have to pull it out, you may want to store it on your counter, either vertically, leaning against the wall, or horizontally, sitting on top of the counter. But… filing cutting boards away inside your cabinets makes your whole countertop space look cleaner and keeps your cutting boards cleaner as well. A pan sorter tucked inside the cabinet makes an excellent sorter for cutting boards, baking sheets, and other kitchen tools you'd rather not stack.
Put staples like flour, oats, and sugar tucked away inside a cabinet or in the pantry rather than on the counter. Save your counter space to function as cooking space and keep your staples fresh by storing them in the darkness of your pantry.
Yes, you want them within easy reach to cook with, but they look cluttery when they're on the counters. In addition, the less oil is exposed to light, the longer it lasts.
2 Things You Should Store on the Countertops
If your goal for decluttering the counters is a minimalist look, skip this section. But the countertop is an efficient place to store many of your kitchen wares.
1. Small appliances that are used every day—or that you want to use every day
If you have to pull the juicer out of a cabinet, you're even less likely to use it. Similarly, if there's a small appliance you use frequently, such as the coffee pot, don't make extra work for yourself by having to pull it out and put it back every day. Sometimes practicality trumps aesthetics, especially in the kitchen.
2. Tea kettles, Dutch ovens, or cast iron skillets
If you use any of these often, consider storing them, well, not exactly on the countertop but on the stove itself. This will save so much space in your cabinets and will prevent you from having to dig out an appliance every time you need it. Again, this only works if you use the item daily(ish) and if you won't have to move it around to do your other cooking.
Courtesy of Apartment Therapy by SHIFRAH COMBITHS